The specific objectives of ReSHAPE will be achieved in seven work packages.
WP1: Next-Generation Treg product development platform
WP1 deals with the generation and GMP manufacturing of next-generation Treg products and is the central element of innovation within ReSHAPE. WP1 will focus on innovative concepts, including non-viral approaches, to enhance target antigen specificity and functional stability of Treg even under challenging in vivo conditions. WP1 will also attempt to develop a concept for using allogeneic off-the-shelf Treg products that would enhance their applicability and cost effectiveness. The Next-Generation Treg platform will be used a role model for any next generation ATMP development.
Transfer from Next-Generation Treg platform (WP1) to Next-Generation Test platform (WP2)
Before transferring the new product candidates to the following platforms, a GO/NO Go checkpoint will be applied.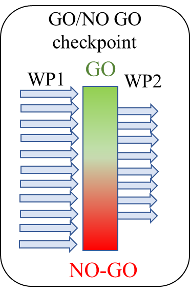 Criteria:
- Advantages to other Treg products/product candidates
- Robust, reproducible manufacturing feasible
- GMP compatibility feasible
- Sufficient yield feasible
- Cost effectiveness for given indication (early HTA)
WP2: Next-Generation test platform for the characterization of Treg products
WP2 focusses on the in-depth characterization of the different Treg product candidates through Proteomics, Multiparamenter Flow/Mass Cytometry, Molecular signature and the development of robust potency tests. The Next-Generation test platform for characterization of Treg products will be used a role model for the in-depth characterization of any Next-Generation ATMP.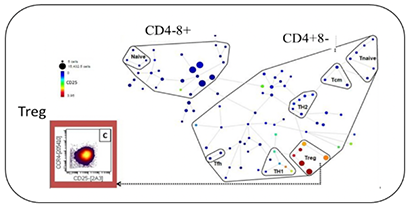 Spade analysis of Cytof data of human T-cell subsets
Transfer from Next-Generation Test platform (WP2) to Next-Generation Preclinical in vitro and in vivo platform (WP3)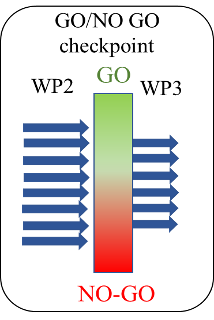 Criteria:
- Advantages to other Treg products/product candidates
- Stable and reproducible phenotype and function
- Sufficient yield from GMP manufacturing feasible Selection of the appropriate animal model(s) for the respective Treg product candidate is a key issue.
WP3: Next-Generation platform for new in vivo and in vitro preclinical (disease) models
WP3 deals with preclinical models to perform PoC studies with the most promising next-generation Treg product candidates. Cell therapies, and even more gene-manipulated cells are very complex medicinal products because they are "living" drugs that do not follow conventional pharmacokinetic/pharmacodynamic (PK/PD) rules. Therefore, conventional preclinical models are of limited value. Consequently, there is a high unmet need to develop preclinical models that reflect better the clinical challenges and have a higher predictive value. ReSHAPE addresses these challenges by building-up a unique preclinical test platform for Treg products in particular but adaptable for cell & gene therapies in general. The promising Treg product candidates will be tested in selected and appropriate in vivo/in vitro preclinical models. Treg product candidates tested are manufactured GMP compliant to come close to the later clinical grade product.
Transfer from Next-Generation preclinical test platform (WP3) to Clinical Trial platform (WP4) to prove next-generation Treg approaches: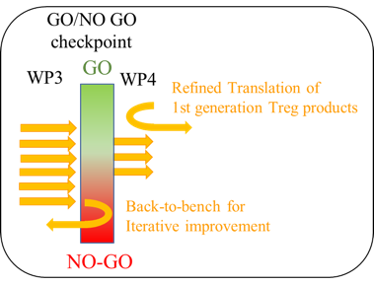 Criteria:
- Successful PoC in preclinical models
- Stable and reproducible phenotype and function
- Sufficient yield feasible Selection of the appropriate preclinical model(s) of for the respective Treg product candidate is a key issue.
WP4: Clinical Trial platform to prove the Next-Generation Treg approaches
WP4 aims at proving next-generation Treg approaches in four clinical trials: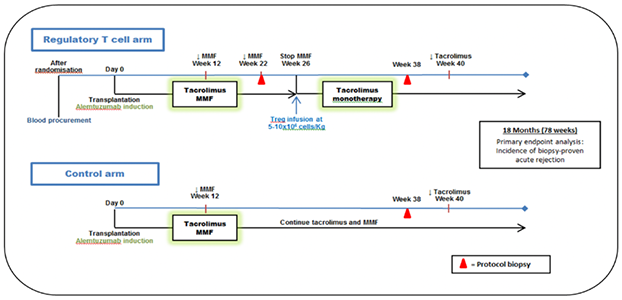 Schematic illustration of the Two Study
The two clinical trials Study 2 "ProTreg Study" and Study 3 "Two Study" are almost ready to go (documents/IMPD for regulatory authorities in Germany and UK, respectively, are submitted, or in the final preparation phase) and the Treg product manufacturing authorisation is approved for both GMP units involved, while the planned two FIH clinical trials Study 1 "TacRes" and Study 4 "Eight Treg"(dose escalation up to 3 doses in a classical 3+3 design) in France and Germany are planned to start in  2 years from now.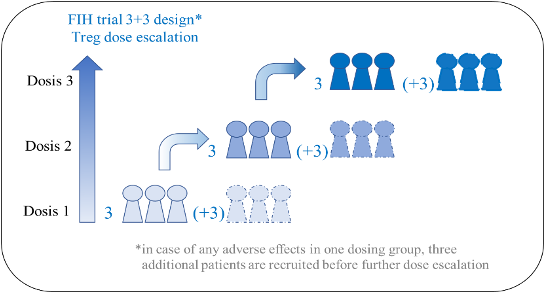 Classical design for FIH trials applying dose escalation according to 3+3 scheme
If the development of any additional next-generation Treg product passes the WP1-WP3 pipeline within the 4-year funding period of ReSHAPE (faster as planned), we will make all efforts to prove them in clinical FIH trials as soon as possible too. The FIH trials work as role model for such kind of innovative studies.
It is expected that each of the Treg approaches/products tested in the ReSHAPE cell therapy trials will be classified as "promising" or "not promising" for further investigation in future confirmatory clinical trials and further exploration – accompanying biomarker (WP5) and HTA (WP6) studies support the decision-making.
WP5: Biomarker platform to monitor therapy response to next-generation Treg approaches
WP5 aims to analyze immunological biomarkers accompanying the clinical trials for a better understanding of PK/PD, safety, surrogate markers, mode-of-action.
WP6: Clinical Development research and early Health-Technology Assessment for supporting exploitation strategies and business models for next-generation Treg approaches
This WP focuses on three major areas; clinical study design, regulatory affairs management and health technology assessment (HTA). These activities will be required throughout the entire translation process of the next generation Treg approaches and proactive bridging strategies for future commercialisation. With expertise in pre- and clinical study design, the Berlin team will support WP4 on how to meet required pharmacokinetic and pharmacodynamic objectives and develop a valid clinical study plan with clear primary and secondary endpoints. In addition, the team will be responsible for the regulatory submission procedures via the management and authoring of documents as required for approval by ethics committee and competent authorities (Ehrlich-Institut (PEI)). Moreover, the team will implement HTA methodologies early in the clinical trial phases. Performing pharmacoeconomic studies during clinical development phases has recently been recognized as an essential driver for making favourable reimbursement decisions.
WP7: Dissemination, Exploitation and Communication platform
WP7 deals with dissemination and exploitation of the research results and the communication within the consortium, the international scientific community, patient organisation and public community.
WP8 Management of ReSHAPE
We ensure efficient operational management including that of administrative, financial and legal issues The goal of this WP is to establish and guarantee full synergy, motivation, integration and effective interactions among ReSHAPE participants.